Query #017 – Hull–McQuellan–Green–Blatz–Bartz:
Note: Verified facts about Frank Elmer Hansen appear in boldface.
I am seeking info on my grandfather, known to me as Frank Elmer Hansen, whom I suspect was really Fern Elmer Hull, a man with two wives (a wife and ex-wife) and different families with each. Frank E. Hansen was an only child and a fireman on the Chicago & Northwestern RR.
Fern Elmer Hull was born 21 Jun 1897, in Lima, Rock Co., WI, to parents Charles E. Hull (of English descent) and Sarah McQuellan (of Irish descent); he also was an only child. Fern Elmer Hull registered for the draft in World War I in Fond du Lac Co., WI, where my grandmother, Evelyn Mary Blatz, was born and raised. On his registration, Fern E. Hull listed as his next of kin his wife Ruth.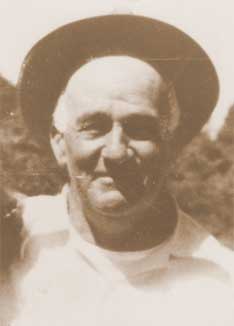 The Hulls in this lineage belonged to the 7th Day Baptist Church. Charles E. Hull was the son of Charles Hull Sr., of Rensselaer Co., NY, and Mary Green, of Fulton, Rock Co., WI. This line has been traced back to the Rev. Joseph Hull, immigrant of 1635, from Crewkerne, co. Somerset, England.
Fern Elmer Hull probably married Ruth C. Bartz, b. ca. 1899, prior to Aug 1918, but no marriage record has been found. Their Hull children were: Virginia, age 3 ½ yrs., Margaret, 2 yrs., and Mary, 3 mos., as found on the 1920 Rock Co., WI census living with Ruth (Bartz) Hull and her parents, Charles F. and Augusta H. Bartz.
Fern E. Hull, listed as married, was found in the 1920 census living as a lodger in Chicago, Cook Co., IL. Living at the same residence was Evelyn Mary Blatz, single, b. 1896, who was my grandmother. No marriage record has been found for either Fern E. Hull or Frank E. Hansen and Evelyn Mary Blatz. Evelyn Mary Blatz Hansen's first child, Janice Marjorie Hansen, was born April 9, 1920; she was my aunt and there were ten children in this family, including my mother.
Fern E. Hull is also found on the 1900 census in Lima and the 1910 census in Milton, both in Rock Co., WI, near Janesville, in his parents' household. I can find nothing about Fern E. Hull after the 1920 census and I can find nothing about Frank E. Hansen prior to 1920. Any information, photos, or other documents about Fern E. Hull, which might verify that he was, in fact, my grandfather, Frank E. Hansen, would be greatly appreciated. Thank you.
— Submitted 29 Jan 2007 by Donald Brokaw, HFA Member #1505

Query #016 – Hull–Morris–Thatcher–Quine: Desire info on George L. Hull, b. ca. 1827, prob. NY. Married 02 Aug 1846, to Sarah Ann Morris, Methodist Episcopal Church in either NYC, NY or Hoboken, Hudson Co., NJ. He d. 18 Feb 1865 in Civil War, in Norfolk, VA. Was fireman on the USS Dictator. Family at that time, living in Hoboken, NJ.
Children were: George M. (m. Isabella [__?__]; William L.; Jane; Alida/Alyda; Hannah/Annie; Adah/Ada; John; Mary (m. #1 Stephen Thatcher, #2 Douglas Quine); another dau., name unknown. Births of ch. range from 1846 to 1864, all b. NJ.
Seeking exact birthplace of George L. Hull and names of his parents.
— Submitted 29 Jan 2007 by Doris Schermond, HFA Member #0506

Query #015 – Hull–Miller: I am seeking information on my 3rd gt grandparent, Jacob Hull, born ca. 1798 or 1800, Warren Twp, Franklin Co., PA, and his family. His wife's name was Sarah (possibly Miller), born ca. 1799, in Bethel Twp, Delaware Co., PA. Their known children were: Abraham, Isaac, Richmond, and Elizabeth. There were 8 other children in this family. Jacob moved west to Illinois about 1857 where he farmed for the remainder of his life.
— Submitted 23 Jan 2007 by Donald L. Goering, HFA Member #1504

Query #014 – Hull–Gregg: I would like to receive any new information confirming what I have on my 2nd gt. grandparents, Edwin Hull and Ann Gregg Hull. Edwin Hull was b. 15 Oct 1815, Camillus, Onondaga Co., NY; d. 23 Aug 1849, Clintonville, Venango Co., PA. He was a minister in Perrysburg, Cattaraugus Co., NY. He m. 21 Jul 1842, to Ann Gregg, who was b. PA.
— Submitted 06 Jan 2007 by David Duane Hull, HFA Member #1499

See older queries here