In addition to maintaining our public website, the HFA Website Committee also maintains a site at MyFamily.com that can be accessed only by our members upon electronic invitation from the Webmaster. (If you want an invitation, contact the Webmaster.) Following is a list of the committee's intentions for the site, some ground rules, and, most importantly, detailed instructions about accessing and using the site.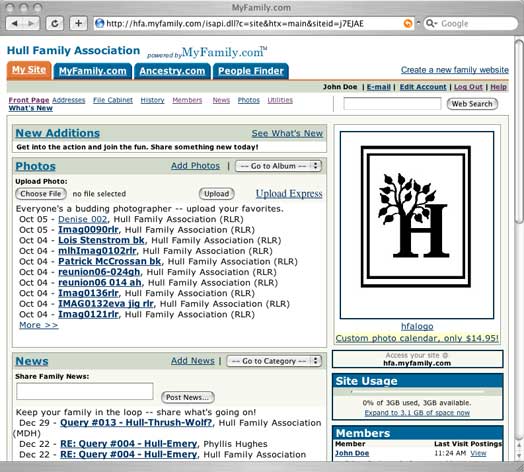 Intentions
Our basic intent is to provide a "members only" site where we can
Keep an updated list of our active members
Send e-mail to all of our "electronic" members as a group
Maintain a calendar of association events
House genealogical resource information dealing with the Hull surname
Note: As of 16 Feb 2007, all HFA members have been granted full access to MyFamily.com. Members' "Guest" status was upgraded to "User," thereby allowing members to post their own messages, queries, and photographs. Be sure to look for the "Enhanced Access" notice on MyFamily.com for tips on posting queries, searching the site, and more. If you haven't been invited to join MyFamily.com, contact the HFA Membership Secretary/Treasurer:




Please note also that HFA becomes co-owner with the submitter of all postings on HFA's MyFamily.com website. For more information see this Submissions Policy.
General Site Instructions
Feature/Option
Removing your birth date from your profile

Select Edit Account (top right-hand corner of every page)
Select Account Management > Change Email or Personal Information
Scroll to Birth Information and edit as desired

Front Page Feature

Contains links to all features of our site and lists latest additions for each feature
Features may be accessed via the links at the top of each page or by the links displayed in the body of the Front Page

Addresses Feature

Contains the latest list of HFA members who have joined HFA's MyFamily.com site; includes contact info and optional photo
Default sort is alphabetical by last name; other sort options are available

Members Feature

Similar to Addresses, but displays last login date and link to member's postings
Default sort is last login, but alphabetical sorts are available
Includes link to edit your personal username/password

Calendar Feature

A standard calendar that can be viewed in a variety of ways and printed; includes official HFA events

News Feature

Contains news items posted by the HFA Website Committee and members, sortable by Category
Use this feature to post your queries and news items of interest to the whole HFA genealogical community

File Cabinet Feature

Contains downloadable documents, sortable by Category
Use this feature to post documents of genealogical research value, e.g., obituaries, birth notices, death notices

Photos Feature

Contains downloadable photos (click on the thumbnail to open the photo entry, click on the photo to view it in its original size, then right-click on the photo and select "Save Picture As" to save the file on your computer)
Use this feature to file photos of ancestors, headstones, houses, etc.

History Feature

Use this feature to file history items associated with the Hull family and/or the HFA

Utilities > Create Another Site

Used to create another family site (if you wish to start a site for another family)

> Universal Login

Use this if you are a member of multiple MyFamily.com websites and want a single login/password

> Change Username & Password

Used to change your username and password

> Change Preferences

Who's Online: A pop-up window at login that lists other members who are on the site
MyFamily Newsletters/Notifications: Modify instant notification of replies to your posts, content notifications, reminders, etc.
Display Options: How many items per page per feature, calendar holidays

> Edit Scrolling Announcements

We suggest that this utility not be used

> View Online Tour

A virtual tour of the capabilities of the site

> New Member Orientation

A textual and more detailed version of the above virtual tour

> MyFamilyGram

We suggest that this utility not be used
We hope you enjoy the "Members Only" site. If you have any questions at all about MyFamily.com, do not hesitate to contact the webmaster.