Full Title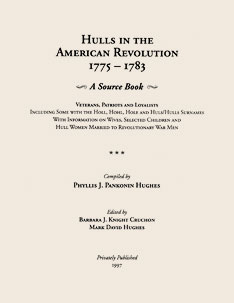 Hulls in the American Revolution 1775–1783: A Source Book, Including Some with the Holl, Hohl, Hole and Huls/Hulls Surnames With Information on Wives, Selected Children, and Hull Women Married to Revolutionary War Men, by Phyllis J. Pankonin Hughes, 1997
About the Book
This is a compilation of those of the Hull surname (and its variants) who served in the Revolutionary War. Contains genealogical information on wives, children, and parents, with 1,191 references cited.
This book is a monumental work on Hulls in the Revolution and is a complete source book on the subject. Its subject matter includes not only the veterans but the patriots and yes, even the loyalists. There are even references to Hull women married to Revolutionary War veterans contained in the work. Also included are Revolutionary War maps, battle descriptions, and a list of those veterans still living according to the 1850 Census.
The book reflects twenty-five years of Hull research and took ten years to compile. It was edited by Barbara J. Knight Cruchon and Mark David Hughes.
Content
The book includes the following:
Vital statistics
Names of parents
Names and data on wives
Rank and colony/state from which veteran served
Military unit and battles
Length of service
Pension and bounty land records
Residence(s)
Lineage identification
Data on selected children
Cross-references to other Hulls in same military units
Information on Hull women who married Revolutionary War men
A complete bibliography
The book is arranged into five parts and an appendix:
Part I – Men: 636 entries; 72 pages
Part II – Loyalists: 16 Hull Loyalists; 2 pages
Part III – Wives: 223 entries, also giving wives' parents when known; 14 pages
Part IV – Selected Children: 715 entries; 60 pages
Part V – Hull Women Married to Revolutionary War Men: 122 entries; 18 pages
Part VI – References: 1,295 entries; 54 pages
Appendix: Glossary, chronologies, etc.
Ordering Information
This book is no longer in print. Copies can be viewed at major libraries throughout the United States of America. Available, however, is this Revolutionary War Location Index for Hulls/Hohls/Holls [PDF].